Bug fixes & improvements
Modern Forms
Version 1.0.67
Implemented displaying of additional lookup field values in sublist control on Modern Forms

Improved People and Groups field evaluation logic
Fixed rendering of the toolbar in Multiline Rich Text for mobile chrome browser
Improved rendering of choice/lookup dropdown: fixed width of choice/lookup dropdown to be equal width of input, implement trimming of long values, and fixed empty value rendering.
Document Generation
Version 1.0.67
Extended [[loop SublistTitle]] placeholder with two additional parameters: 'filterlookupfield' and 'rowlimit'
[[loop SublistTitle]] is used for looping over the sublist items filtered by lookup to the parent list. Since it was not possible to specify which lookup field use for sublist in a case when several lookups on the same list exist, we extended functionality with filterlookupfield('filed_internal_name') param. It's optional when there is only one lookup field.
Also RowLimit is hardcoded for 200 items for query, but now needed number can be specified with optional rowlimit(number) param.
[[loop Contracts filterlookupfield('Department') rowlimit(300) view('ContractsByDepartments')]] 
[[Title]] 
[[end loop]] 
Scheduled and Triggered Actions
Function to convert date from UTC to Local Time and vice versa
Whereas it was not possible to get the current date in local time in Scheduled & Triggered actions and
"new Date()" object is created in UTC, we extended our server-side placeholders with two functions that allow converting time to any other time zone:
[[@Functions.UTCToLocalTime('DateTime object or string')]]
[[@Functions.LocalTimeToUTC('DateTime object or string')]]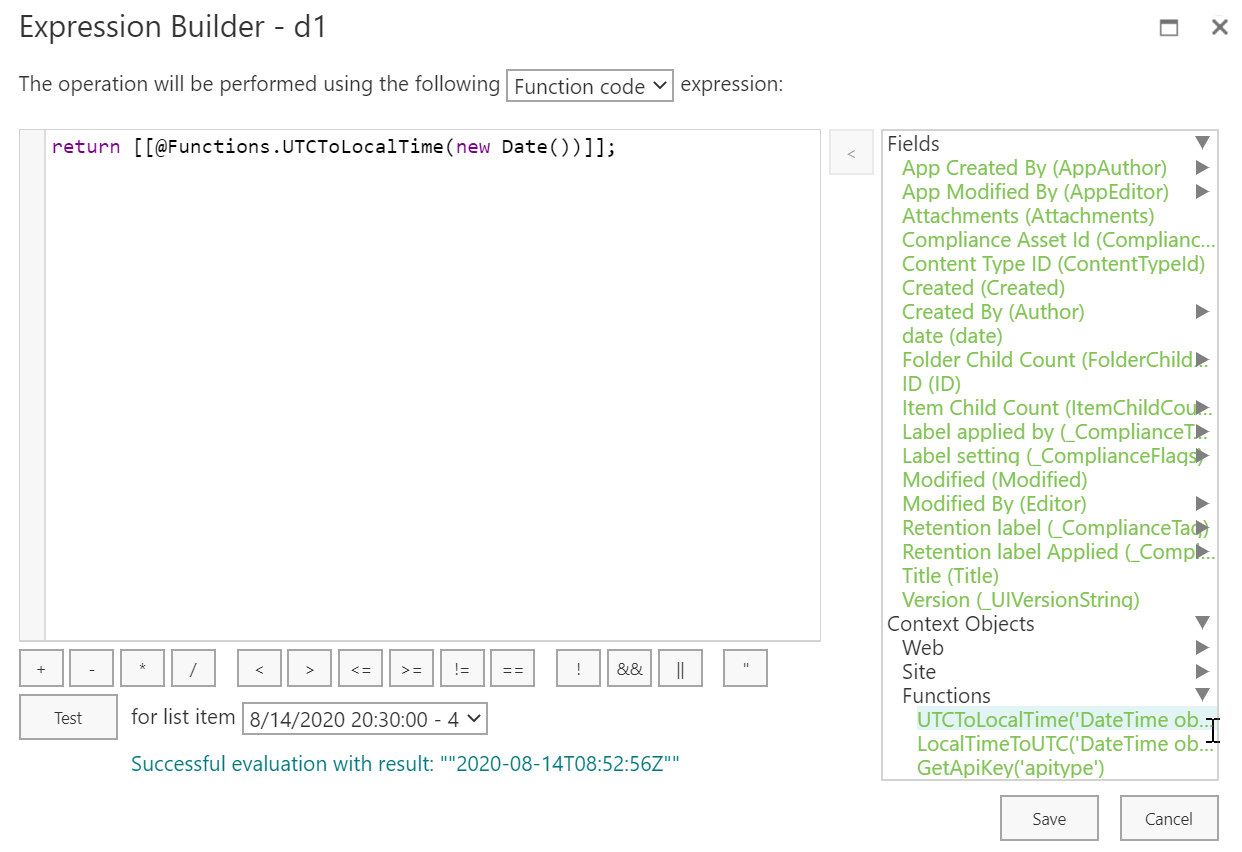 Package & Publish
Fixed provisioning of Conditional formatting on the site column