Version Number: 1.3.4.0
Release Date: 22.05.2023
skybow Modern Forms - Getting started
Important update information
Due to major changes in improving the loading of modern forms, Modern Forms Add-in with Automatic update need to be updated manually to the latest version. The current one will no longer update automatically.
You can download the latest versions from here: Release Downloads Modern Forms Add-In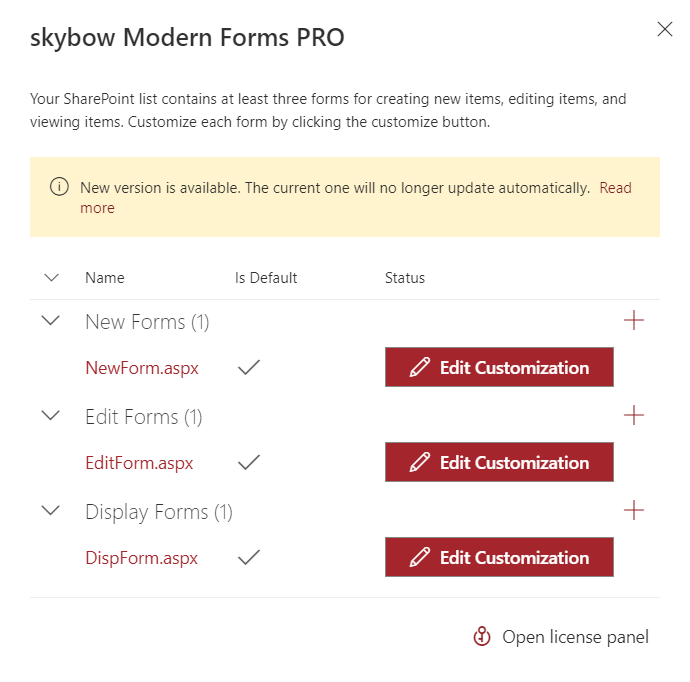 Bug fixes & improvements
Fixed threshold error during saving the generated document to the library with more than 5k items
Improved error handling in 'Generate document' action
Supported [[@Variables]] and [[@Actions]] output placeholders in the template of the 'Generate document' action
Fixed <ViewFields> parameter in CAML query for multiple items configuration in 'Generate document' action
Fixed evaluating placeholders in the Footnote and Endnote of the document template in 'Generate document' action
Fixed generating document with a single quote in the file name
Fixed storing generated documents to the SharePoint folder with special symbols in the name (i.e. "&")
Supported .docm file as a template in 'Generate document' action
Added Display form option to List configuration
Supported files & folders selection for Data lookups
Fixed 'Upload document' action on iOS devices
Supported Calculated and additional Lookup columns on the Display form
Fixed [[@User.IsMemberOfAADGroup()]] placeholder for the case if the user is a member of more than 100 groups
Fixed loading forms for the case if the lookup placeholder to the broken field is used in Visible expression
Fixed lookup filtering with enabled 'Select the only remaining item automatically after filtering' option
Improved error handling for [[@Functions.EvaluateExpression()]] placeholder evaluation
Fixed behavior of the Choice field with the 'Allow 'Fill-in' choices' option activated to show custom choice value in the dropdown
Fixed uploading photos for the Image column on the iOS
Fixed 'Keep both/Replace' option for the document library on the modern form for the case if the file is hidden on the view
Added 'Folder' option to 'Add list item' action
Extended enhanced lookup with additional columns to show in the dropdown.