If you delete a solution in Solution Studio or remove an existing deployment, skybow will not delete anything in your SharePoint site. We simply remove the registrations in the background, as there might still be content in the lists.
These instructions show what can be deleted manually, that there is no skybow artifact left on the site, if you are not allowed to delete the complete site or site collection (which would of course be the easiest way).
Before you go ahead and delete your solution, make sure to remove all your deployments and packages from the "Package and Publish" sections in Solution Studio first.

After this you can delete the solution from your solution dashboard.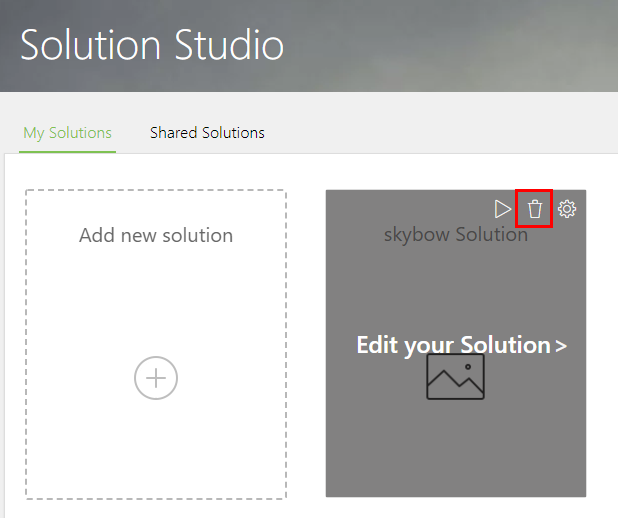 If your solution has been deleted, follow these steps:
There are a couple of hidden lists that are used for the configuration of the features. Not all are always available, it depends if they have been used.

To delete them simply enter the url manually in your browser or use SharePoint Designer (I know not all of you have still installed this ancient tool.. )
- [siteurl]/FormsStoreLibrary
- [siteurl]/sbActionLinks
- [siteurl]/sbDocumentGenerator
- [siteurl]/sbListViewSearch
- [siteurl]/sbSolutionAssets
- [siteurl]/sbSolutionStudio



In the SiteAssets library there are a couple of folders that can be deleted

If there were forms customized using skybow rich forms you can delete the "Rich Forms Editor" web part from the specific form and clear the JSLink property from the default Listform web part

If there was skybow list view search used on a list view for filtering, you can delete the "Search" web part from the specific view and clear the JSLink property from the list view webpart

If there were skybow action links used simply delete the web part where it has been placed and you probably see an error after deleting the hidden libraries
If there were forms customized using modern forms first uncustomize these forms

If you've used our modern features in your solution (modern forms or command actions) there is a SPFx app that can be deleted from your site contents

If you've used our background calculated fields (metadata inheritance, aggregation, calculated value) there might be a Site App Permission notifications.skybow.com, that can be removed from "Site Settings -> Site App Permissions"

With those steps there should be nothing left from skybow on your site.