Open form action allows opening the New, Edit or Display form dynamically in a panel or a new window.
For more information about Action Builder read Action Builder introduction article.
When action type Open form is selected, the following additional properties should be specified:
Configuration
Property
Required
Type
Description

List or library

yes
Choice

The list or library where the form is located. It is possible to select the list or library from current site.

Form

yes
Choice

Drop-down list with form types: New, Edit or Display.*




* if Library is selected in the List field, only the Edit and Display options are available.

List Item Id

yes
Integer

ID or expression to be evaluated as ID of an item if a Display or Edit form is selected.

Open In

yes
Choice

Provides options for choosing how a form should be opened. There are two options available:

Panel: form will open in a panel. If the option is chosen, the user has to specify the panel width.

New window.

Panel width

yes
Choice

Drop down list shows all possible panel size you can choose: Small, Medium, Large, Full Screen

Query String

no
String

Allows adding further text to query string (the question mark "?" or ampersand "&" does not need to be typed at the beginning).
Availability
| | | |
| --- | --- | --- |
| Modern Forms | List Actions | Scheduled/Triggered Actions |
| ✓ | ✓ | - |
Example

of

Open form action configuration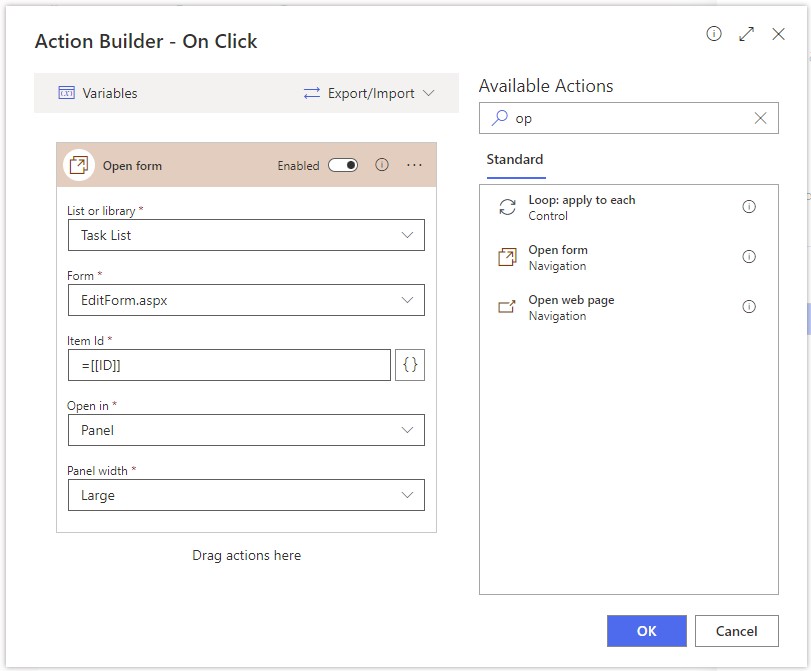 Output
Output for this action is not available